Evergreen Resort: (204)624-5750
Clearwater Lake – The Pas, MB Canada
FISHING – HUNTING
SUMMER – WINTER

MANITOBA CANADA
LOCATIONSH
RATES
PACKAGES
PHOTO GALLERY
L & M SPORTS EXCELLENCE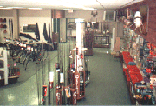 Ken and Faye Kobelka also own L&M Sports Excellence in The Pas.

This has been an established hunting & Fishing store for more than 40 years.

CLEARWATER LAKE'S NORTH SHORE, WHICH IS ABOUT A 12 TO 15 MILE BOAT RIDE FROM THE RESORT, HAS A FEW LARGE BAYS WHICH ARE EXCELLENT FOR PIKE FISHING. VERY OFTEN WE CATCH NUMEROUS PIKE IN THE 30″ TO 35″ AND UP TO AS HIGH AS 40″ TO 44″.
CLEARWATER LAKE HAS SOME OF THE BEST LAKE TROUT FISHING IN THE AREA. LAKE TROUT IN EARLY SPRING AND LATE FALL CAN BE CAUGHT RIGHT IN FRONT OF THE RESORT. AS THE SEASON PROGRESSES LAKE TROUT MOVE TO ABOUT 40 – 60 FEET OF WATER IN LATE SPRING. AS SUMMER COMES LAKE TROUT MOVE DEEPER, GENERALLY FROM ABOUT 50 – 100 FEET OF WATER LATER IN THE SUMMER.
PEOPLE USE MANY DIFFERENT TECHNIQUES FOR TROUT FISHING. JIGGING LARGE WHITE JIGS OR DRIFT FISHING WORKS WELL ALL SEASON. DOWNRIGGING WITH LARGE SPOONS OR PLUGS ALSO WORKS WELL.
RAINBOW TROUT ARE FOUND IN STOCKED WATERS AROUND CLEARWATER LAKE. BARBE LAKE IS 25 MILES NORTH OF CLEARWATER AND PRODUCES A GOOD MAJORITY OF MASTER ANGLER RAINBOW TROUT IN MANITOBA.
NEARBY CORMORANT LAKE IS ALSO A VERY GOOD PIKE FISHING LAKE. CORMORANT IS ACCESSIBLE FROM THE RESORT BY ROAD AND IS LOCATED ABOUT 15 MILES NORTHEAST OF THE RESORT.
WALLEYE FISHING ON CLEARWATER IS ALMOST NON-EXISTENT BUT CORMORANT LAKE IS NEARBY AND OFFERS SOME GREAT WALLEYE FISHING.
SMALLMOUTH BASS ARE AVAILABLE AT BRADLEY LAKE ABOUT 35 MILES FROM THE RESORT. BRADLEY IS A SMALL LAKE THAT HAS BEEN STOCKED AND IS A CATCH AND RELEASE ONLY LAKE

FLY-IN WALLEYE FISHING:
NEW DELUXE 6-MAN FISHING CAMP AT FLY-IN LAKE 30 MILES FLYING DISTANCE FROM THE MAIN LODGE. CABIN IS FULLY WINTERIZED. NEW BOATS AND MOTORS.