Evergreen Resort: (204)624-5750
Clearwater Lake – The Pas, MB Canada
FISHING – HUNTING
SUMMER – WINTER

MANITOBA CANADA
www.evergreenthepas.com
email: fkobelka@mts.net
LOCATIONSH
RATES
PACKAGES
PHOTO GALLERY
L & M SPORTS EXCELLENCE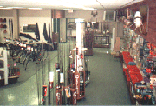 Ken and Faye Kobelka also own L&M Sports Excellence in The Pas.

This has been an established hunting & Fishing store for more than 40 years.

FOWL:
THE SUMMERBERRY MARSHES HAVE NUMEROUS SPOTS TO HUNT ALL FROM ABOUT 20 TO 60 MILES TO THE SOUTHEAST. DIRECTLY TO THE WEST ONLY FOUR MILES FROM THE RESORT ARE THE ROOT AND READER MARSHES. TO THE SOUTHWEST, EIGHT MILES FROM THE TOWN OF THE PAS, IS THE SASKERAM MARSH.
VARIETY OF SPECIES:
A WIDE VARIETY OF SPECIES AND LARGE NUMBERS OF BIRDS MAKE THIS SOME OF THE BEST DUCK HUNTING THERE IS ANYWHERE IN NORTH AMERICA.
MALLARDS, PINTAILS, REDHEADS, CANVAS BACKS, WIDGEON SHOVELER, TEAL, BUFFLEHEAD, SCAUP, RUDDY AND GOLDEN EYE ARE MOST OF THE SPECIES YOU WILL LIKELY BE ABLE TO HUNT AND ADD TO YOUR BAG LIMITS.
THE AREA ALSO OFFERS SOME OF THE BEST AREAS FOR BEAR AND OTHER LARGE GAME HUNTING.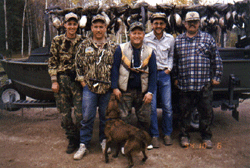 BEAR HUNTING:
ALL WILDERNESS SETTING. MOST OF THE HUNTS ARE OUT OF A TENT CAMP RIGHT IN MIDST OF FOUR VERY HIGH QUALITY FISHING LAKES. FISHING IS ALSO AVAILABLE AT THE SAME TIME AS BEAR HUNTING.

MARKSMAN EVERGREEN OUTPOST CAMP:
AT FLY-IN LAKE WALLEYE FISHING AND BEAR HUNTING.